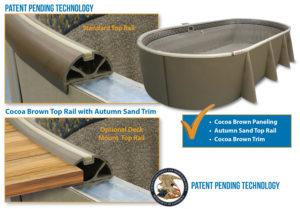 Building your custom pool is simple, just start by selecting the pool size you're interested in below. From there, you will be able to customize your pool!
1. Choose Your Pool Size & Shape
The first step to creating your Funtastic Pool is to select the size and shape from the choices below. This will take you to the Funtastic Pool customize form for that pool.
2. Fill Out Customization Form
Filling out our customization form is easy. Just select the different pool options and accessories you're interested in, and you will instantly receive your pricing via email.
3. Submit Your Pool
Submitting our pool customization form will send an email to one of our sales professionals. We keep all your contact information safe.
Build Your Custom
Oval

Pool

Classic design meets contemporary construction.

All our pools can be free-standing or mounted to a deck. Our oval pools come in three standard sizes – 18′ x 33′, 15′ x 30′, 12′ x 24′.

Funtastic Pools Oval Pool features an elegant design that's perfect for almost any backyard. Click the thumbnail images below to begin creating your Funtastic Pool.
Build Your Custom
Round

Pool

Functional and a good fit for a wide variety of yards.

Simplicity and five size options make our custom round pools great for large yards, small lots, and almost everything in between.

Choose from the sizes below to get the perfect pool to transform your backyard.
Build Your Custom
Grecian

Pool

This classic geometric design creates an elegant look.

They are great for people that are looking for a design that's not a traditional as a round or oval pool. Grecian Funtastic pools come in four different sizes.
Build Your Custom
Freeform

Pool

Need a flexible solution? We got you covered.

If you have a uniquely shaped space we can contruct a pool to fit it.

Just choose a basic size from the choices below and start your journey to a new pool, new backyard, and new lifestyle.